Unlocking and Unleashing Personal Transformations with NLP Training in Singapore
All of us want to improve and change ourselves to be the better version of who we already are. We are driven to do so because of our intrinsic desire to make an impact in our personal lives, careers or relationships. That is what makes personal transformation and self-development exciting, alluring and fascinating. The idea of it can certainly be enticing, yet it can also be intimidating at the same time. Because, this means adjusting what you have been used to and shifting to a relatively unknown part of yourself.
Understanding NLP
Neuro Linguistic Programming or NLP can help you break down this barrier to create significant changes and realize the transformation you aim to achieve by digging deep and tapping into your mind and reprogram how it thinks. It will provide you with techniques to help you understand and change the patterns that affect your thinking and behavior, which influences the outcomes and results in your life. Simply put, NLP helps you rewire negative thought and behavior patterns and introduce new and positive ones.
How is this done? Let us break down the terms to give you a better understanding of this powerful concept.
Neuro refers to your mind and thinking process. However, this is not limited to the brain function itself, but rather it is the way you use all your senses in creating a unique understanding and experience of the world around you.
Linguistics refers to the language and the words that you use to communicate and influence you and those who are around you. How and what communication system that we use greatly affects the output that we want to achieve.
Programming refers to your behavior, habits and attitudes on how you organize your thoughts and actions, which can result to expected or unexpected results. This is affected and influenced by the information that you take in from the world around you and is formed through repetition.
Join us for an amazing sessions to unleash and harness your potential.
Our FREE NLP Sharing Session is designed to provide you with an effective and powerful tools, which can jumpstart your journey to a meaningful self-transformation.
Jacky Lim's NLP Book Rank in the Top 10 Best-Selling Books in Singapore's Major Bookstore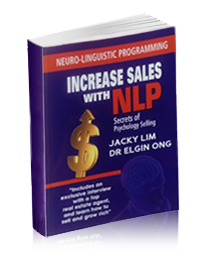 Just barely two months after its launch, Singapore NLP Trainer Jacky Lim's book entitled "Increase Sales with NLP: Secrets of Psychology Selling" rank in the top 10 best-selling books at Books Kinokuniya Singapore. Books Kinokuniya Singapore is the largest bookstore in Singapore offering books, magazines, CDs, DVDs, videos, manga and many more.
Click Here to Order this Book!
NLP is a merging of three components. It involves identifying, understanding and incorporating successful thought and communication patterns into your own. It works similarly to taking a successful individual as a model, identify their thought process and how they structure the language that they use and using those same patterns to create the changes that you want into your life.
This may sound complicated and complex, but what is great about the mind is that it can unlearn what has been learned and can easily be replaced with a new learning. NLP techniques challenges the adage "You can't teach old dogs new trick", which in this case, clearly does not hold true at all.
The Gains and Rewards of NLP

One of the essential gains that you will be able to reap with NLP is to have a deeper sense of self-awareness, which is captured in the NLP Certificate Program. It emphasizes on remodeling your "self" and follow the patterns of influential people that you can emulate into your own life. You will learn valuable techniques to help you shatter inhibitions, anxieties and personal roadblocks and to overcome procrastination and destructive habits to build your confidence and create the life that you want. NLP will allow you to break down these barriers and help you clarify and set-up your goals to help you achieve a dream faster and create a balanced life overall.
However, NLP does not stop at transforming your own being. It transcends onto your ability to interact with other people using methods to help you have a better appreciation of how other people's behavior and thought process works. In the NLP Master Practitioner Certificate Training Course, you will be able to further deepen your understanding of NLP and develop advanced and powerful interpersonal communication skills. This will allow you to be able to easily influence other people to achieve a change that you want to reach. Because of this, NLP can serve well among movers in an organization who are constantly in connection with different people. You can even become an NLP coach yourself, if you choose to be.
Top executives and directors

Managers, administrators and supervisors

Secretarial Staff

Human Resources Staff

Counselors

Customer care personnel

Receptionists

Sales and marketing people

Trainers and teachers
Harmonizing with Personal Profiling
NLP in itself is already a powerful tool. However, we enrich it even further by complementing techniques from some of the most valuable personality profiling tests in the world. The Enneagram Personality Profiling will help you delve deeper and explore your core. This will help you to identify and understand your strengths and weaknesses.
We all know that wealth success is considered a benchmark for achievement. If you are struggling in treading your wealth path, the results that you will discover with the Wealth Dynamics Profile Test will give you a valuable knowledge on which role you are naturally most efficient to attain the financial success you desire. Also, you will be able to learn where you are in your wealth map with the Wealth Spectrum Test, which allows you clarity on the steps that you need to take to reach the highest wealth level. These tests will help you anchor the remodeling process you will take in one of your NLP courses.
Enriching Experience with an NLP Coaching Expert
Your NLP experience will be guided by one of the most sought-after professional personal development and NLP coaches, Jacky Lim.
Jacky is a certified American Board of NLP (ABNLB) Trainer, Life Coach and Master Practitioner of NLP in Singapore. He has spent several years of training from the best NLP trainers in Singapore, Hong Kong and the USA, among others. He has successfully worked with and trained thousands of individuals in Singapore and in the region from various organizations ranging from schools, small and medium enterprises, multi-national corporations, non-profit organizations and government institutions. He is also the founder of Acme Achievers; one of the few institutions that offer an ABNLB recognized NLP certification training programs in Singapore.
And while concept of NLP may seem too technical to you, Jacky injects interesting and fun activities in all the NLP courses, making your personal development and transformation an exciting and enriching experience.
NLP is not just about self-discovery, it about achieving a holistic transformation and unleashing your ultimate potential as an individual. If you are pursuing this motivating quest for self-development, join us in one of our NLP Sharing Sessions. This will give you a better idea of what NLP is all about and what to expect during our valuable courses. NLP Lead Trainer Jack Lim will personally join you in this sit down session with you.
What are you waiting for?  Call (+65) 9822 7132 and grab the seat especially reserved for you!